At Grupo Argraf we want to contribute positive value and leave a better world to our successors. That is why we have made a commitment to our society and the environment. We do not understand constant improvement and innovation if they are not accompanied by strong investments and a firm commitment to sustainability -we have no carbon footprint-, but neither do we understand our existence as a company without advocating a true relationship with the society we are part of.
For this reason, at Grupo Argraf we like to support young designers, to help them fulfil their dreams and goals, providing them with the necessary support and guidance in their training.
The economic engine cannot be the only thing that gives meaning to our activity, but we must focus and direct our efforts on generating a positive impact on society. And one way of doing this is to reach out to organisations that work with young people and adolescents, whom they help through education to develop as people, as is the case of Fundación Pioneros.
The relationship with Fundación Pioneros began when our former manager, Martín Torroba, joined the Social Council of this entity, forming part of a group of professionals and businessmen who advised and participated in a disinterested way, contributing their ideas, knowledge and experience. As a result of this commitment, the Pioneers Foundation recognised Grupo Argraf as a Pioneer Company.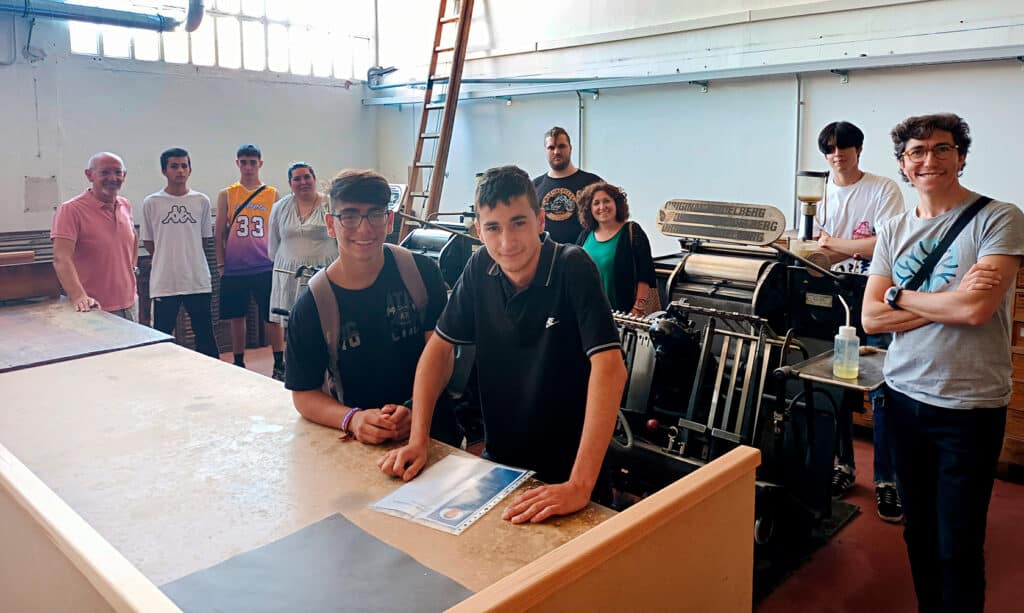 Grupo Argraf, in the network of Pioneer Companies
Grupo Argraf is currently collaborating with the Foundation and Employment for Young People programme of this entity, which aims to help young people who are looking for an opportunity to enter the world of work or to continue with their studies and training. They are specialised in assisting a profile of young people who are really difficult to integrate, due to their age and low qualifications. They work on skills training, together with individualised intervention, and on strengthening the business network and the network of Pioneer Companies, of which we form part, to achieve a greater number of insertions.
For this reason, a group of young people from Fundación Pioneros have once again visited our facilities. Led by our technical advisor, Alberto Pérez, they were able to learn about how our company works from the inside.
But this visit went beyond a simple tour of our facilities. Alberto Pérez, from his experience and his own personal story, expressed his desire to be able to offer something more to young people who are starting out in the world of work. We share this commitment to improving the life of the community and also his words: "We all have the capacity to learn, the difference is in the time we need […] The problem is that there is nothing to motivate them, because they do not motivate themselves. Dreams are to be pursued".
And at Grupo Argraf we want to help these dreams come true. We will continue to do our bit for this society, adopting a greater commitment. With the aim of leaving our mark on the life of this community and continue, as Alberto Pérez says, to encourage young people to study, to acquire knowledge, to develop as people and to do what they like. "It is very difficult to get a young person excited, perhaps because they have zero stimuli".
At Grupo Argraf we cannot remain oblivious to this situation. We are growing as a company, we are expanding in our market, but this should not distract us from the responsibility we have towards the society of which we are a part and we will continue working to strengthen the bond we have with it and with our young people. They will be the ones who succeed us.