Design student Daniel Álvarez Santín has won the third edition of the 2020 EtiquetaNews National Wine Label Competition. This contest, sponsored by Grupo Argraf since its first edition in 2018, is already considered the most relevant in Europe for graphic design students, due to its high levels of participation.
This year, 410 Bachelor's and Master's degree students from 34 universities applied. A 41% increase compared to the previous edition.
With our sponsorship we want to show our interest in discovering and promoting new talent. We also want to motivate the best graphic design students to orientate their professional careers towards the label and packaging industry.
This year, the first prize went to Daniel Álvarez Santín, a student at the Escuela Superior de Arte del Principado de Asturias (ESAPA), for his wine label "OH". A label based on a creative concept that arises from the natural chemistry of wine, inspired by the hydroxyls and the image in the Catechin (natural antioxidant).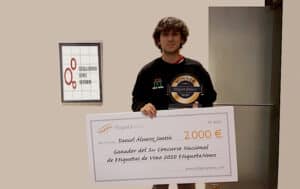 The basic shapes of the label are based on the molecular formula of this antioxidant and were handmade using linoleum to give it a handmade, natural and modern texture. The typography used is "Botera" in its stencil variant, a typography designed specifically for wines, whose author is Javi Montoya, a designer from Jaén.
Alba Aranda Montero, from the Toledo Art School, won second place in the competition with her label "Madre Tierra". And Lía Marcos Rojo, also from the Asturian ESAPA, won third place with her label entitled "Nero.
The ESAPA school, winner of the competition
This year, the Escuela Superior de Arte del Principado de Asturias (ESAPA) was the big winner of the competition, winning four of the six main prizes.
Thus, the prize for the Best Label Design Training Centre in Spain went to this centre, as did the prize for Best Label Design Teacher, which went to Blanca Prendes.
Finally, the prize for the Centre with the Highest Participation in the Competition went to the Antoni Algueró School (Barcelona). This resounding success of ESAPA in the 2020 Edition consolidates it, together with BAU (winner of the 2019 Edition) and ESI Valladolid (winner of the 2018 Edition), among the best label design training centres in Spain.
Pre-registration for the 2021 Edition is already open.
More information in
ETIQUETA NEWS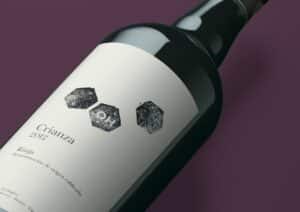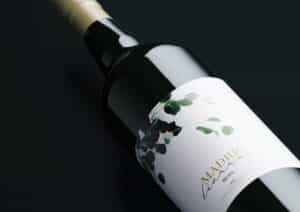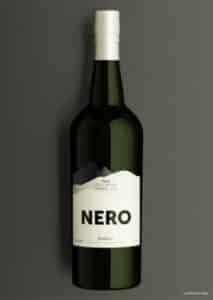 FIRST PRIZE                                                  SECOND PRIZE                                               THIRD PRIZE